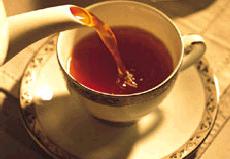 I love TEA, iced or hot, morning, noon or night...I love (coffee,
too) but i drink more tea. Many countries all over the world
drink tea, it is ceremonial, takes breaks at mid day, there is
high tea, every culture has a special connection to this beverage.
In 1773, there was a major tea party, in the Boston
Harbor, this event, sparked a revolution and Independence
to become our own, country.
There are four main types of tea: black, green, white and oolong. Tea has many health
benefits: it helps our immune systems, it can help lower blood pressure and cholesterol, it can
help make your smile brighter by reducing plaque and some studies say, it can help with weight loss.
I think there is a tea for everyone....herbal, decaf, the classics, the creative types...growing your
own herbs and making your own blend.
You can travel with a cup of tea, England, Ireland, India, Japan, China...etc
"If you are cold, tea will warm you. If you are heated, tea will cool you. If you are depressed,
it will cheer you. If you are excited, it will calm you" ~William Ewart Gladstone
http://www.twiningsusa.com/
http://www.bigelowteablog.com/
http://www.celestialseasonings.com/
http://www.tazo.com/default.asp?hasFlash=1
This last one, you can consult your tea leaves .....hopefully, you will receive, TEArrific news!