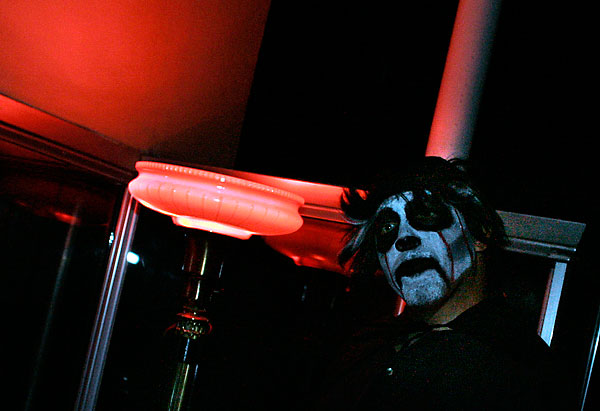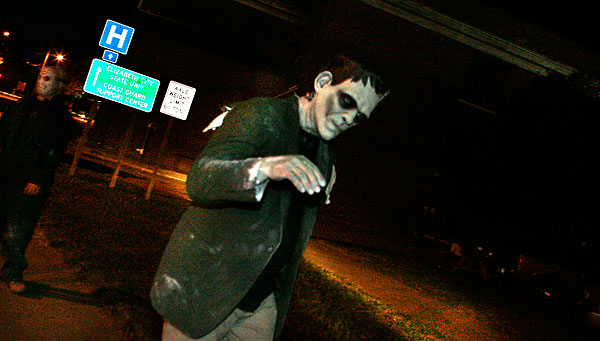 What do brownies cupcakes and haunted house have in common? In this case, they both are freakishly good~ I took, my daughter and her boyfriend, Brendan to Fright Night, last night. It is a haunted house that is for
charity
. It was their first date; I drove downtown to see how long the line was. Cornstalks were aligned by the fence, creatures walking around taunting the crowd. Once we are in line, Brendan begins to tell us, what last year.s house was like. This haunted house, usually is the weekend of Busch Gardens; Angela n' I hadn't been, we usually to go to
Howl-O-Scream
. He tells us there might be a car wreck,a jail and scary clowns, besides the usually. I am thinking perhaps, I should just let them go in,but I had already bought my ticket and I do love Halloween. This event is run by the Police, so for safety we have to walk through a scanner...make sure, no one has a knife, gun, etc. As we approach the entrance, I hear the Gatekeeper say if you feel anything, to sweep it off, that you shouldn't have worn shorts and don't hit anyone, if they accidental touch us.Yikes..We are paired up in a group of 6. The kids insist I go first, then Brendan says he can hang onto my hand and Angela's. Sweet kid, first date, hanging on to his girlfriend and her Mom's hand. The other three with us is a cop n' his family. We start in, I'm the leader; I open a coffin door and walk through, it is so dark, you can't see, the walls start to close in on us and then the ceiling, finally we find an opening and proceed. You weave through a maze in darkness, something different in every room. Weird effects, you see a clown dressed in black n' white approach you, then closer then disappears. In another room, a cop is at a table reading the newspaper, asking if we had heard about this criminal. Next thing we know we are in a jail cell, with the creature. A room with a huge spider and webs and lots of feel good effects. The night ended with chainsaws buzzing and the smell of gasoline. You physical run out of the building, which has the legend of already being haunted. As we exit the building, we are jumped by bat like men, zombies and this 8' mothman. Impressive....They really out did themselves, all the proceeds go to good causes.
It is the perfect Trick or Treat; you are tricked and your money will treat others to Christmas. Fear makes you hungry, so after pizza, then I made these weird brownie cupcakes. When you read the ingredients, you will fear this isn't worth your time or you will be grossed out, but trust me.
It is a gorry batter, but the results are so worth it; I followed the recipe, but only cooked 1/2 the batter. Then I added 1/2 a bag of chocolate chips, mini ones to the rest of the batter. I'd have to say, they are truly good. If you are brave enough to make them. This recipe if from the
"HungryGirl" Cookbook.
Yum Yum Brownie Muffins:
per serving 1 muffin=181 cals, 3.5g fat, 357mg sodium, 37g carbs, 2 g fiber, 20g sugar, 2g protein.
Ingredients:
1 box of regular(not pudding added) devil's food cake mix(about 18 oz)
one 16 oz can of pure pumpkin(not the one with sugar and spices)plain, pure, pumpkin puree
Directions: Preheat oven to 400 degrees. Mix the 2 ingredients together. Do not add anything else, just these 2 ingredients only. The mixture will be thick and it will work your bicep mixing the batter. Place batter in a 12 cup muffin tin. I use sprayed oil. Bake in the oven 15-20 min. I made the mini muffins, I baked them for 7 min. I think you should check around 12min. I have a hard time, following recipes. I usually add something else. I followed this one, but only used 1/2 the batter. I added 1/2 a bag of mini morsel chocolate chips. Real chocolate added a lot more flavor, yes some more fat, but if you want a real chocolate taste, you will prefer the morsels. I found them moist, rich, and fudgey. My family liked the ones with real chocolate, better. Either way, it is a win, win...no eggs, no oil, moist and satisfies the chocoholic. And the beta-carotene from the
pumpkin
adds a lot of health benefits. They are freakishly good~enJOY!