Is it really the first Wednesday in December-wow, time did more than fly. Did someone say fly?! Sorry, I am tired. I still have hives and am wacky. I will be all over the place today. I have two poetry prompts and am taking part in IWSG.
Alex
, I mean Ninja Captain Alex started a support group for writers. Check this out if you would like to join the
IWSG
=Insecure Writers Support Group. We post the first Wednesday of every month. Thank you Captain, for doing this! Alex is the author of the famed
CassaStar series.
I'll start with my insecure post. I have heard the best story to write is the one you can't shake. Lately two stories have leaped to mind. Sorry, for the pun. One I think I would enjoy writing, the other scares me a bit. I guess I'm afraid of the memories it may dredge up. How do you decide? Everyone says write a poetry book-what do you think? I guess that is probably where I should start...
Sometimes I wonder how I will make and find time. I want to do it all, but no one can and do it well. I have to narrow my focus and here today I will blog three times. I guess, this will be a record breaking day, than I will narrow my focus! ;D I am sure it won't happen again, until the axolotl regenerates itself. Sorry, for some reason my horoscope compared me to this alien lizard and mentioned I should write a story about my scars?! Go
here
if you want to check out yours! So, now I am rethinking the scary story. How do you decide what to write? What lingers in your mind or scares the axolotl out of you?!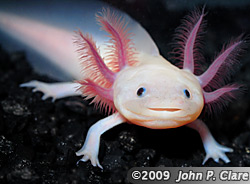 I will be back and post, who won my giveaway!